About Us
Established in 1990, Instrumex is an ISO 9001:2015 registered company and one of the largest manufacturers and suppliers of Environmental Pollution Monitoring Instruments. Our strength lies not in just developing the instruments but providing a Total Solution for your pollution monitoring requirement. At INSTRUMEX, our passion is Continuous Research & Development of new technologies in Pollution Monitoring Instruments.

We have indigenously developed Air & Water quality monitoring instruments with CE marking. We are the only company to participate and win the iDesign 2014 Award for the design of PM2.5 Sampler. INSTRUMEX is therefore poised to take the new challenges of Innovation in this industry and deliver world class products and services for the people.


Quality Statement
At Instrumex, we believe Quality is paramount and is the birth right of the customer. With enduring effort, we dedicate ourselves to deliver defect free instruments and Quality after sales service to all our customers.

We are engaged with local and national institutes for serving the community in the study of Air & Noise Pollution Monitoring.


Quality Assurance
Instrumex is a quality-driven company whose main focus is to deliver products that pertain to the international standards. We maintain great care at all stages beginning right from procurement of raw materials to the last stage of product delivery. We concentrate our efforts in producing and delivering top-notch products that ensure total customer satisfaction.
We have enforced strict quality control measures at every stage that ensure that the products are in conformity with international standards. We have our quality management team that is in charge of analyzing the manufacturing procedures so as to come up with products par excellence. They ensure that the products are fabricated from the best quality components, the quality control measures are followed and the products are priced competitively.
We follow the following measures to ensure that the products manufactured by us comply with the set industry standards of quality:
* Material test
* Dimensional accurate measurements
* Hardness testing
* Finished test like Plating & Powder coating
Customer Satisfaction
At Instrumex, we are constantly working to provide our esteemed customers with a range of highly competent products that guarantee supreme satisfaction to them. We have employed our team of professionals in getting a better comprehension about the requirements of the clients and it is worked out through close coordination with them. In addition to providing our clients with the standard versions we also provide them with customized products that have been developed as per the specifications provided by the clients. We ensure that the reasonably priced consignments are delivered to their destinations within the set time period


ISO Certificate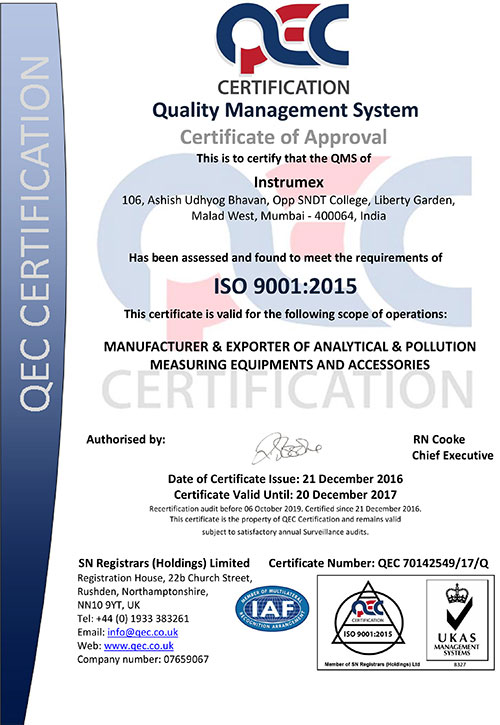 Vision
To be the most preferred & respected manufacturer of Environment Monitoring instruments
Mission
To develop a brand known for Innovation and to create world class instruments for Environmental Pollution Monitoring. To bring awareness to the citizens of India about Hazards of Air Pollution and build cost effective monitoring solutions for Industries and citizens alike.
Catalog